C'mon? Do we really need to do a plot synopsis? Does anybody not know the basic premise of King Kong? Boy meets girl. Boy and girl go to an island to make a movie. Boy loses girl to big monkey. Boy gets girl back and takes big monkey home. Big monkey breaks loose. Boy loses girl again. Big monkey gets shot off a building. Boy gets girl back. T'was beauty killed the beast -- well, that and about 300-rounds of ammo and an 80-story fall. Man, but that terminal velocity can be a real bitch.
Too simple? Okay ... Let's start over:
We open at some unnamed New York City pier at the height of the Great Depression. Aboard the docked ocean vessel The Venture, Captain Englehorn (Frank Reicher) consults with his client, flamboyant moviemaker Carl Denham (Robert Armstrong), about how they need to pull anchor and skedaddle as soon as possible. Why? Apparently, Englehorn fears the local Harbor Patrol has gotten wind of Denham's special cargo: a stash of chemically modified grenades filled with knock-out gas and enough munitions in the hold to blow up the ship. But Denham insists they must wait; seems he needs a female lead for his next picture to appease the fickle public. Almost on cue, Englehorn's first mate, Jack Driscoll (Bruce Cabot), escorts in Weston (Sam Hardy), Denham's last hope, but the theatrical agent brings bad news ... No one in their right mind would send a girl on one of Denham's mystery location shoots -- usually to the deepest and darkest corners of the planet. Heck, even Englehorn and Driscoll don't know where they're going this time.
Pressed for time but as undaunted as ever (-- the man never lacks for enthusiasm), Denham vows to find a female lead for his movie -- even if he has to marry one. Walking the back streets and alleys of New York, the director's luck is so bad he's about to give up the hunt until he serendipitously intervenes and saves a starving young waif from a wrathful fruit vendor, who thinks she tried to steal an apple. As the woman swoons into Denham's arms, and he gets a good look at her face, the director excitedly calls for cab...
"It was more than a beautiful face, although it was beautiful, with the well molded clearly defined features in which his cameraman's eye had immediately rejoiced. Large eyes of incredible blueness looked out at him from shadowing lashes; the ripe mouth had passion and humor; the lifted chin had courage. Her skin was transparently white; and not, Denham decided, because she was so plainly under-nourished. That marvelous kind of skin belongs with the kind of hair which foamed up beneath her shabby hat. This was of pure gold. If Denham had been poetical, which he was not, he might have pictured it spun out of sunlight."
Taking young Ann Darrow (Fay Wray) under his wing, Denham gets her something to eat. Between bites she recognizes the world famous movie director, and he in turn offers her the opportunity of a lifetime. Ann is reluctant but Denham calms these fears, assuring her it's all strictly business, and with nothing to lose, and with no idea where her next meal will come from, she finally agrees. But between me, you, and the wall, our new starlet should have read the fine print before committing, or at least asked who was destined to be her leading man, to whom dark, tall and handsome doesn't even come close to describing -- he typed ominously...
My lifelong fascination with King Kong began when I was kid in the summer of 1976, when the propaganda machine for Dino de Laurentiis' much ballyhooed remake flooded the country and overwhelmed this junior monster fanatic's over-caffeinated brain. Images of artist John Berkey's savage Kong leaping over the chasm between the Twin Towers of the World Trade Center, breaking through a wall, wrasslin' a snake, or wrecking a train were everywhere; on tablets, calendars, trading cards and Burger King glasses (-- collect all four!). Also, like most people of my generation and situation (-- living in the sticks with no cable and VCRs still a mere pipe dream), I had never seen the original King Kong outside of pictures in books and monster magazines. But the story of the great ape and his battles with all those dinosaurs, while protecting his prized possession, to his climatic battle on top of the Empire State building had long been committed to memory. I knew how the stop-motion techniques to bring him to life worked, and, at that point in my life, I chucked the idea of being a fireman and settled on being an animator of dinosaurs when I grew up.
Where I went wrong and how I wound up here is still up to much conjecture, wailing, and gnashing of teeth.
And yes, the great ape's battle with the bi-planes may have been the story's climax, but it was Kong's adventures on Skull Island, battling all those monsters, that truly had me hooked. I mean, What five-year-old kid doesn't love dinosaurs? Or monkeys. Giant monkeys. Or giant monkeys fighting dinosaurs? So imagine my disappointment when I finally see this new Kong and there was nary a dinosaur in sight. For in spite of Jessica Lange's vapid acting skills (-- how her career survived this is beyond me), and Jeff Bridges letting his beard do all the hard work, and a life long dislike of Charles Grodin, it was the terminal lack of action on the island that sunk the remake for me. A giant snake? What? Really. That's it?
And it wasn't until a few years later when I realized sometimes a snake wasn't really a snake -- if you know what I mean, and what shoving that giant, greased-up phallic log into a big reedy glory hole at the gate during Dwan's sacrifice really meant. *bleaugh*
It would be at least another ten years before I finally got to see the '33 version, and, holy crap, was that well worth the wait! And my love affair with the movie and all it entailed kicked into overdrive and hasn't slowed down since.
When King Kong premiered back in 1933, the film proved such a smash hit that it saved a Depression ravaged RKO Pictures from bankruptcy. More importantly, though, a national phenomenon was born. Frankenstein's Monster, Dracula, the Mummy, and even the Wolfman, these were all European monsters, and though Kong might have been captured on a remote South Seas island, he was the first bona fide American monster, and he proved so profitable RKO kept re-releasing the movie well into the 1950s, where it helped to ignite the resurgent atomic-age monster boom. But before we get too far ahead of ourselves, it should be pointed out that if it weren't for the efforts of two men, one a real life adventurer turned studio hatchet-man, the other a pioneering F/X technician, who perfected his craft on the go, the film might never have been made, or turned into something completely different than the version we were fortunate enough to be blessed with.
There's an awful lot of producer/director Merian C. Cooper in Carl Denham, the maverick moviemaker who leads the expedition to Skull Island to find the giant ape. Heck, you could even say Cooper is Denham.
After serving as a Lt. Colonel in the Army Air Corps during World War I, Cooper became a world traveler, adventurer, and documentary filmmaker on wild animals and primitive tribes in their native habitats. And when these documentaries were released and made good money for Paramount Pictures, more studio work soon followed, including some second-unit work providing location footage to be spliced into adventure films like The Four Feathers.
Merian C. Cooper, Marguerite Harrison and Ernest B. Schoedsack
During his travels, Cooper met a fellow adventurer and filmmaker, Ernest B. Schoedsack, and a life-long friendship was born. As the legend goes, Schoedsack would run the camera while Cooper manned his rifle to get those up close and personal shots of all those exotic beasties for the likes of Grass and Chang, and the two would collaborate on many other film projects to come. And one of those mushrooming ventures they were kicking around was a proposed documentary on either the great apes of Africa or the giant dragon lizards on Komodo Island -- and in at least one aborted version, these animals would meet for a climactic fight. This eventually evolved into an idea of a large gorilla running amok in New York City, but they weren't sure how they could logistically pull that off.
At around the same time, producer David O. Selznick took over the floundering RKO Pictures, who offered an executive position to Cooper. Apparently, the studio was having trouble switching over from silent to sound pictures, and then got doubly-socked by the Great Depression. As RKO teetered toward bankruptcy, Cooper took Selznick's job and one of his assignments was to look at all of RKO's films currently in production and determine what could be salvaged and what should be scrapped. And one of the many projects on the chopping block that Cooper looked at were a few completed F/X shots for RKO Production: #601, and Cooper was absolutely gob-smacked by what he saw. And with that, it's time to meet the other key player in Kong's birthing process...
Willis O'Brien was a technician for the fledgling Edison Film company when he first used his stop-motion animation technique to bring prehistoric creatures to life in the 1917 epic, The Dinosaur and the Missing Link. O'Brien's original models were crude and a tad-bit unruly, leading to his collaboration with artist and engineer Marcel Delgado, who would build intricate armature skeletons made out of aluminum, with many points of articulation. These models were then covered with carved rubber pieces to provide shape and muscle tone before the appropriate skin was applied.
Around 1920, O'Brien's techniques were employed again for Herbert M. Dawley's The Ghost of Slumber Mountain, a sixteen-minute short film (-- cut down from 45 minutes, because even way back then the producer was worried about the audience's short attention span --) about a couple of hikers who stumble upon an old, haunted cabin. When the ghost of the cabin's owner, a hermit named Mad Dick (O'Brien), appears and instructs them to go to a nearby cliff and look through a telescope at the valley below, they spy several dinosaurs, including a Brontosaurus, diving into a lake, and a rutting battle between two Triceratops; then an Allosaurus stomps on scene and kills one of the Triceratops before spotting the observers. The monster gives chase, but luckily, for the hikers, it was all a dream, inspired by a tall-tale a grandfather concocted for his grandchildren. (Eventually, the excised scenes would appear in the sequel, Along the Moonbeam Trail.)
An adaptation of Sir Arthur Conan Doyle's The Lost World for First National Pictures was O'Brien's next showcase. This silent film debuted in 1925 and featured the tale of a British expedition up the Amazon to a high plateau, where all sorts of pre-historic creatures still existed. When the expedition brings a Pterodactyl and a Brontosaur back to England, the sauropod promptly breaks loose and runs amok. After a lot of property damage, the beast finally falls into the Thames River and swims for home. (Was the Brontosaurus rampage the inspiration for Cooper and Shoedsack's story? Who knows for sure.) After that, O'Brien was commissioned to work his magic for RKO Production #601, a/k/a Creation, where a group of sailors land their submarine on an uncharted tropical island populated by dinosaurs. Mayhem ensues. (Actually, this plot sounds eerily similar to Edgar Rice Burroughs' The Land that Time Forgot, first published in 1924.) Unfortunately for Creation, the stock market crashed, the Depression soon followed, and the production was suspended indefinitely. However, the miniature set-pieces were already built, as were most of the models, but O'Brien had only completed one scene before the plug got pulled: a sequence where a sailor shoots a baby triceratops, and then flees from the vengeful mother. Of course, this was the sequence that Cooper screened that fateful day. By this time, O'Brien had mastered the art of rear projection and compositing two separate pieces of film together into one master shot. This allowed for more interaction between the film's protagonists and O'Brien's creatures; the results were stunning. You have to remember: this was the 1930's, and no one had ever seen anything like this before. Hell, talkies hadn't even been around that long, yet. Realizing O'Brien's technique was just what he needed to pull his Kong project off, and in order to save costs, Cooper decided to incorporate the ready-made dinosaurs into his movie as well.
Next, Cooper needed to get his script together. Collaborating via correspondence with British mystery and adventure writer, Edgar Wallace, the famed author would take Cooper's scenarios and translate them into script form. Drawing inspiration from the pulp adventure books and films of the time period, the story of King Kong is a dark, exotic, and sordid affair -- and very, very gruesome. (Remember, the draconian Hayes Code wasn't in full effect yet.) Unfortunately, Wallace died before the script was completed so Cooper turned it over to James Creelman. But Cooper wasn't completely satisfied with his completed draft, and that's why the final script was penned (-- or better yet, pieced together --) by Ruth Rose, Shoedsack's wife. With that, Cooper finally had his script, but money was still tight at RKO, and to proceed any further, script or no script, they still had to get Selznick's approval.
Together, Cooper and Schoedsack decided the best way to convince the RKO brass that their film was feasible and a guaranteed hit was to provide a full demo-reel of O'Brien's work for the sales pitch. To realize their main attraction, Delgado went to work and created the Kong model, and the (-- twenty? forty? --) fifty-foot ape was a mere 18-inch tall metal and rubber armature covered in rabbit fur. Once completed, O'Brien went to work on a sequence where Kong fights the Allosaurus (-- one of the many dinosaurs meant for Creation), and a scene of Kong picking sailors off the log. And once all that was done, Cooper showed the footage to Selznick and the rest, as they say, is cinematic history.
Well, almost history -- if they could pull the rest of the movie off as we catch up with the passengers and crew of the Venture as their six-week voyage gets underway.
Two things happen as the weeks pass. One, a romance slowly blossoms between Ann and the surly Driscoll, and two, Denham is still very coy about their eventual destination but drops all kinds of hints; the most obvious being Ann dressing up in the Beauty and the Beast costume for a few practice shots. And as Denham rolls the camera, he instructs her to slowly look up; then asks her to react to something big and horrible looming up above her; then to scream -- scream for her life! Ann follows his instructions (-- and boy, does she have a set of pipes!) while Driscoll frets and ominously wonders what she's really going to see when they get to wherever the hell it is they're going!
Finally, Denham calls Englehorn and Driscoll to the bridge and reveals a top-secret map of a mysterious island that's not on any of Englehorn's charts. Seems the wily director bought it off a Norwegian skipper who picked up a native canoe lost at sea. All the occupants were dead, save one, who managed to draw Denham's map, which shows an island with a tall mountain in the center, shaped like a skull. There's also a peninsula separated from the rest of the island by a large wall that Denham claims they need for safety. When Englehorn assumes it's a buffer against a hostile tribe, Denham shakes his head negatively, then asks if they've ever heard of Kong. Doing their best to hide their derisive smirks, neither sailor believes in the wild legend of some monster. With a shrug, Denham admits he's not sure if he believes it, either, but all myths have some basis of fact; and he intends to film this Kong -- whatever it turns out to be.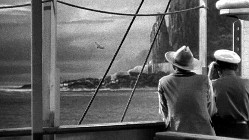 They do find the island and drop anchor, but have to wait out a thick fog before heading ashore. When it finally dissipates, the island presents itself and Denham's wall, with a large gate in the middle, can be seen from the ship. Gathering his film equipment, his cast (-- despite Driscoll's vehement protest that she should stay on board), and an armed escort, Denham takes an expedition ashore. Upon reaching the beach, they follow the sound of native drums inland, leading them to a primitive village that appears deserted. Continuing on, the drums lead them to the large gate, where they stumble upon quite a spectacle: a wild ceremony is underway; and while chants of Kong thunder from the masses, and about a dozen guys dressed as monkeys dance in a circle, it doesn't take a genius to figure out the girl being showered with flowers in the middle of all this insanity is to be a sacrifice for something. Ordering the others to stay hidden, Denham sets up his camera and starts rolling as the ceremony reaches a fever pitch. But just as the Chief (Noble Johnson) appears ready to put the finishing touch on the whole shebang, he spots Denham, bringing everything to a screeching halt.
Luckily, Englehorn can speak their lingo and calms the natives down -- for the moment. As the Skipper translates for Denham, the Chief says the flower girl was to be the Bride of Kong but now the ceremony is ruined. And as the natives inch forward, things are about to get real ugly real fast until the elder spots Ann and orders a cease and desist. Then, in compensation for ruining their ceremony, he demands a trade and quickly offers several native girls for Ann. Sensing trouble, Denham refuses and orders a hasty retreat back to the Venture before the natives cut them off. However, Denham tells the Chief they'll be back soon to make friends.
That night, on the Venture, Driscoll and Ann make it official and profess their love for each other. But when Driscoll is called to the bridge, leaving Ann alone on the deck, the natives seize the opportunity, swoop in, and stealthily swipe her, without a peep from our heroine; the girl only manages to tear off a native bracelet, that lands silently on the deck ... From the bridge, Denham, Englehorn and Driscoll watch the island and plot their next move. Something big is going on in the village, and as Denham wishes he could shoot film by torchlight, we cut to the giant wall and see what the commotion is all about. The Kong ceremony is back in full swing, only this time, Ann is the bride to be! As the giant gate is opened, revealing a slab bracketed by two large pillars of stone, Ann, in a state of shock, is rushed out and secured to this sacrificial altar ... Back on the Venture, Charlie (Victor Wong) -- the cook and carcinogenic comedy relief -- finds the broken native bracelet and raises the alarm. And when a quick search of the ship finds no sign of their leading lady, Englehorn barks orders to break out the guns and man the boats.
Meanwhile, at the wall, the natives close the great gate and bolt it shut before the Chief gives the order for a large gong to be struck several times. As a hush comes over the crowd and the air grows tense, the soundtrack teases us as something big starts crashing through the trees toward them...
"Before her, Ann became conscious of the crowded wall. Behind her she was aware of a closer, deeper shout, and of a shadow. She turned her head. Then while her eyes widened, the Shadow split the black cloak of the precipice and became solidly real. Blinking up at the packed wall, its vast mouth roared defiance, its black, furred hands drummed a black furred breast in challenge. In the full glare of the torches it hesitated, stopped and as though reading the meaning of the thousand hands which gestured from the rampart, turned and looked down at the altar, and at Ann.

It did not look up at Ann upon her pedestal. It looked down."
Suddenly, Ann finds her voice and screams, screams for her life (-- although I don't think she's acting this time!) Releasing her from the altar, the giant ape cradles her in a paw, roars at the natives, and then turns back to the jungle. On the other side of the wall, the rescue party arrives too late but Driscoll gets a quick glimpse of Kong as he disappears into the trees. Rallying the troops, Driscoll and Denham take half the men to pursue Ann while Englehorn and the rest remain behind to hold the gate. But as the rescue party follows Kong's footprints, they quickly discover Kong isn't the only monster on this island!
Stumbling upon a Stegosaurus in a clearing, it soon sniffs them out and charges. As the sailors open fire, Denham chucks one of those special gas bombs, and when it detonates, the creature is enveloped in the noxious vapor, takes a few more steps, then collapses. Neutralized, Denham puts one more bullet in the beast's head to finish the job. Incredulous, Denham can't believe it's a real dinosaur -- and the worst part is, he doesn't have his camera ... As the pursuit for Ann continues, they hear the great ape forging a river ahead. Laden with their weapons, the men overcome this natural obstacle by hastily constructing a crude raft. Shoving off, they only get about halfway when another dinosaur, a sauropod, attacks and sinks them. With all their equipment, guns and bombs lost in the river, the sauropod munches a few defenseless sailors and tosses them around; it even pursues them onshore and runs a straggler up a tree, eventually picking him off with its jaws and kills him.
Up ahead, Kong crosses a fallen log over a deep chasm, deposits Ann in the nook of a tall tree, and then circles back to see what's been pursuing him. What's left of the rescue party isn't that far behind, still running from the sauropod, when Denham gets caught up in some branches and lags behind. Meanwhile, Driscoll leads the charge over the chasm but only just makes it across before Kong roars on scene. Diving off into some vines, Driscoll swings his way into a shallow cave below the log. The other sailors aren't so lucky. And as they try to scramble back to the other side, Kong seizes the log and starts shaking them off. Unable to hang on, all the men plummet to the bottom, where mercifully, the fall proves fatal and the sailors didn't meet their originally intended fate...
And at this point we're gonna pause and talk about some scripted scenes, some famous, other infamous, that didn't make it into the final cut of King Kong. Apparently, in the original script, while the rescue party was getting trampled, drowned or devoured by the sauropod while crossing the river, Kong was having a little trouble himself:
With his prized possession still cradled in his arm, Kong is pursued by herd of Triceratops and other armored dinosaurs. Coming to an asphalt morass, Kong starts firing huge rocks and boulders at his pursuers (-- after placing Ann down, of course.) He scores a direct hit on one, breaking it's central horn off, while another gets stuck in sinkhole while dodging another missile and drowns. Kong then continues his salvo until the stampeding herd breaks off pursuit and switch directions. Unfortunately, for the sailors (-- who didn't get trampled, drowned or devoured by the sauropod), the herd of wounded and angry Triceratops are now heading right for them! And as they try to get away, one man is run down and gored. But the others escape and come upon the chasm spanned by the fallen log. And since one of the Triceratops is still blindly blundering in the trees, hunting them, Driscoll and Denham decide the best plan is for Driscoll to keep after Kong while the rest of the survivors try to make it back to the wall for supplies and reinforcements. Driscoll makes it across the log just as the wounded Triceratops crashes out of the trees, forcing the others to cross the chasm, too. Unable to follow, their pursuer roars at them, but before the others get across, Kong appears (-- having deposited Ann in a tree), answering the perceived challenge of the bellowing Triceratops (-- and I think it's supposed to be the one he broke the horn off of). Driscoll manages to bail off and hide, and Denham does the same on the opposite side of the chasm, while the rest of the sailors are stuck between the two monsters. And as Kong starts to shake the log free of sailors, the Triceratops, getting no more interest from his adversary, lumbers off. Unable to hang on, all the sailors plummet into the chasm, save one Kong can't shake. But his tenacity goes for naught as the enraged ape just chucks the whole log into the chasm, where this time, the fall did most definitely not prove fatal.
You see, originally, most of the sailors who fell didn't die when they hit the bottom. And waiting for them below was an assortment of all kinds of unspeakable things:
"The ravine was very deep, with a thick deposit of mud and slime at the bottom. Alongside this reeking deposit, and indeed all the way up the steep sides, were narrow mouthed caves and long, jagged fissures in the rock ... As though exorcised by [a] pointing figure, a spider like a keg on many legs came crawling out of a cave. It may not have been aware of the watchers on the high margins of the ravine, but everyone would have sworn the thing stared up malevolently. Something which could have been a lizard except for its size lay warming itself on a sunny ledge. The spider moved toward it, then thought better of the impulse and looked about for smaller prey. This was provided by a round, crawling object with tentacles like those of an octopus. The spider crawled to the attack. Both octopus insect and spider vanished into fissure."
When watching the standard version of King Kong, as the sailors plummet to the bottom of the chasm, you can make out some kind of web that they break through, but their screams are cut short, making one assume the fall was fatal. However, in the original cut:
"Two of the men lost their holds. One grasped madly at the face of a prone comrade and left bloody finger marks as he went whirling down to the decaying silt at the bottom. He had no more than struck when the lizard flashed upon him. Driscoll, watching, hoped the complete lack of movement meant unconsciousness, or, better, that death had come immediately. The second man did not die in the fall. He was not even unconscious. He landed feet first, sinking immediately to his waistline in the mud, and screamed horribly as not one but a half dozen of the great spiders swarmed over him ... Another man fell, prey for a new outpouring of spiders. Another jerk, and the octopus insect, along with a score of his companions, began to fight the spiders and the lizard for the booty. Only one man was left on the log and he clung desperately ... Kong glowered down upon him and in a culminating exasperation swung the log far sideways and dropped it. The end caught on the very edge of the ravine and then slipped slowly off to drop like a battering ram upon the insects at their feast below."
The so-called lost "Spider-Pit" sequence has been a Holy Grail for many a movie buff, and the reason for its excision are as varied as the opinions on what it really looked like -- some even claimed it was never filmed at all, victim of an escalating budget or proved too time consuming to complete for a looming deadline. There are precious few photos, stills and conceptual art of the actual sequence, but evidence abounds that it was actually filmed. Models and props from King Kong have appeared in numerous other RKO pictures, most notably in a couple of Cary Grant's screwball comedies, Bringing Up Baby and Once Upon a Time. But the real find for the sharp-eye are a couple of cornball spook-shows, Genius at Work and You'll Find Out, both containing secret lairs and workshops stuffed full of all kinds of weirdness, including the large spider (pictured above), a smaller crab-like spider, and the legless lizard models used in the missing scene. And later, in The Black Scorpion, several of O'Brien's creation resurfaced in the underground caverns. Definitive evidence that at least the props for the scene existed, but was it actually filmed? For that answer, we're going to turn to Kong historian Jack Polito, and his exhaustive interviews with Cooper and Kong composer, Max Steiner. And the answer is, yes, it was filmed. Most definitely. In fact, the scene was completed for the test reel that got the project a green light. And once filming commenced, Cooper told scriptwriter Rose to incorporate the scene into the finished script.
But the question remains, Why was it cut? Well, according to cinema folklore, the sequence was cut, by Cooper himself, when the audience watching a rough-cut reacted badly to the overall gruesomeness of the creepy-crawlies. However, according to Polito, it was removed because Cooper felt it derailed the film's momentum and took too much time away from the pursuit of Kong and the eventual rescue of Ann Darrow. According to Steiner, the scene was cut out early enough that it was never scored. And later, upon Kong's eventual re-release, several more scenes wound up being removed to appease the Hayes Code (-- see examples in the sidebar). Eventually, with Polito's assistance, most of these scenes were restored in the 1960's, but alas, the Spider-Pit sequence was still left out and now appears to be lost forever, except in the imaginations of Kong fanatics worldwide.
In the lead up to his 2005 remake, director Peter Jackson even went so far as to recreate the scene using the old school stop-motion techniques as a bonus feature on the original's DVD release. And when watching Jackson's remake, one has to think Cooper was right in that the scene, though all kinds of gruesome, derailed the film's already staggering and spluttering momentum.
So, we'll take the original as is, and after Kong disposes of the log, he turns his attention to Driscoll, who is also menaced from below by a large lizard crawling up to get him (-- one of the few surviving vestiges of the original sequence). Driscoll manages to dodge Kong long enough to hack up the vine the lizard was using, and as it plummets back into the ravine, Kong almost gets him until he hears Ann screaming and breaks off at a gallop.
Back in the tree, Ann has been spotted by an Allosaurus with an itchy nose, whose pegged her for a quick snack. But as it closes in for the kill, Kong intercedes and a wild and savage battle ensues. During the slugfest, the tree Ann is in topples over, pinning her underneath it as the brutal fight rages on until Kong finally gets the upper hand and breaks the dinosaur's jaw, splitting it's maw open way beyond the original technical specs. Roaring in triumph, the great ape beats his chest, retrieves Ann and moves on ... Meanwhile, back at the chasm, Driscoll crawls out and spots Denham, spared because he got snagged. Saying he'll keep after Ann, Driscoll sends Denham back for reinforcements and more gas bombs. He promises to signal them somehow if he manages to sneak Ann away, and then barks at the retreating Denham not to get himself killed until he sees Englehorn. Moving on, Driscoll sees the carnage and carcass from Kong's last battle, and then tails the ape all the way to Skull Mountain, where Kong enters his cave and makes his away around an underground lake on the way up to his perch. Lurking in said lake, a Plesiosaur menaces a discarded Ann but Kong grabs the slippery creature, which counters by coiling around the ape in an attempt to strangle him. Slowly, Kong uncoils the attacker, seizes it by the tail, swings it high over his head, and then slams the creature down several times with much ferocity. Quickly discarding the corpse, Kong takes up Ann and saunters out onto his perch.
All of this finally proves too much for Ann, who faints. Gently laying her down, Kong moves to the edge, surveys his kingdom, and let's out a monster roar while pounding his chest. Moving back to Ann, the ape picks up her limp form, and then the naughty little booger starts pulling pieces of her clothing off to examine her scent. Apparently aroused, the pervy-primate starts tickling her. Ann wakes up as this assault continues, and luckily for her, Driscoll dislodges some rocks back in the cave; and when Kong dumps her to investigate the noise, Ann soon falls victim to yet another dinosaur (-- are they just circling around and waiting for him to put her down or what? --) when a Pterodactyl swoops in, snags her, then flaps away. But Kong intercepts him on the five yard line, causing the winged and horribly overmatched monster to drop Ann before being turned into a piece of origami (-- look! I made a lower intestine!). And while Kong pretzels the pterosaur, Driscoll uses the distraction to slip away with Ann via a large vine that descends from Kong's perch to the river below. Alas, Kong spots them and starts reeling them back in. With no other outlet, Driscoll lets go and he and Ann plummet into the water below. Fortunately, it was deep enough, and as they surface and swim away, up above, Kong angrily roars.
Meanwhile, back at the wall, Denham managed to get back all right without getting killed, but Englehorn insisted they wait until daylight before sending another rescue party. Thus, as the director impatiently waits, the look-out spots Driscoll, with Ann in tow, heading for the wall. Alas, once Driscoll and Ann are safely retrieved, Denham has been infected with the idiot bug and announces he wants to capture Kong -- and not on film. Driscoll scoffs, saying they'll never get him off the mountain, but Denham doesn't think they'll have to. He feels sure the ape will come after Ann. On this point, Denham proves prophetic as the look-out raises the alarm. Kong is coming!
Barely getting the gate closed and bolted before the ape strikes, as Driscoll quietly escorts Ann back to the Venture, the others try to buttress the rapidly rending gate. But even with the natives pitching in, the timber can't hold as Kong breaks through and starts buzz-sawing through the locals by eating and stomping on them. With the village soon laid to waste, everyone retreats to the beach, where Denham finally gets his hands on another gas bomb. Heaving it at the pursuing ape, the grenade detonates true and Kong sucks in the knock-out gas, stumbles around, and then collapses on the sand. Then, his megalomania getting the better of him, Denham orders the sailors to bring chains and tools from the boat. And with dollar signs spinning in his eyes, he promises to share it with all of them: they'll teach Kong a little fear, respect, and his proper place in the food chain, and then display him for all the world to see. Denham can see it all now, up in the Broadway lights:
We quickly segue to opening night at a very large show palace in New York. Backstage, Driscoll, clad in a monkey suit (-- sorry about that), and Ann watch Kong apprehensively. To lighten the mood, Denham offers the box office is overflowing with cash and adds it will assuredly be like this every night. But Ann is still nervous, so the director assures they've knocked all the fight out of Kong and not to worry. Then, at the allotted time, the gala begins when Denham strolls on stage and introduces Ann and Driscoll. A constant showman, he milks the moment awhile longer, then raises the curtain, revealing Kong, chained to a large steel cross. Next, when Denham calls a mass of reporters in, all the rumors about the New York media are to be proven true. For, as they snap pictures of Kong and Ann, the flashes annoy the ape, and, worse yet, he mistakes it as an attack on the girl! Quickly enraged, Kong easily breaks his chains and is soon on the loose! Panic sweeps the theater, but Driscoll manages to get Ann outside and slips into a nearby hotel. Right behind them, Kong breaks out into the street and chews on a couple of pedestrians until he spies Ann being herded into the hotel just as the riot squad shows up. To get away from them, Kong starts scaling the hotel, where, several floors up, he spies someone through a window, smashes it in, and snags her. When this turns out not to be Ann, he quickly discards her and, alas, gravity takes over.
In their hotel room, while Driscoll reassures Ann's ensconced safety, Kong silently peeks through the window behind them and spots her. Smashing in, he knocks Driscoll out, snatches up Ann, and then returns to the street, where his rampage continues by taking out an L-Train. When Driscoll recovers, he finds Denham coordinating with the authorities. With their hands tied because they can't shoot at Kong for fear of hitting the girl, no one is sure what to do. Then, a report comes over the radio saying Kong is climbing to the top of the Empire State Building. With that, Denham thinks they're licked until Driscoll suggests using airplanes. If they can just get Ann away from Kong, he hopes, the planes can get take him out.
Another quick aside, here: one of the biggest production snags was deciding on which building Kong would climb for the climax: The Empire State Building or The Chrysler Building? (Seen in the background above.) Eventually, since The Empire State Building was the tallest, it got the nod.
Upon reaching the top of the great skyscraper, Kong's molecular structure proves unstable in the higher altitude as he appears to have doubled in size! Spying the circling airplanes, he sets Ann down and rises up to meet the challenge ... As the planes swoop in and pepper the ape with round after round of machine gun fire, Kong manages to snatch one and sends it spinning into the building. But the rest prove too elusive, and the onslaught continues until Kong slips down to the ledge of the building, where he painfully reaches for Ann. But one more pass from the planes stops him, propelling our fugitive into a death scene that would do Bugs Bunny proud:
"He fought to the end. With the last of his strength he leaped for the rearmost airplane. He missed, but his mighty spring carried him clear of the setback below, and out above the street. For a breath then, high above the civilization which had destroyed him, he hung in the same regal loneliness that had been his upon Skull Mountain Island. Then he plunged down in wreckage at the feet of his conquerors."
As Kong plummets to the street, Driscoll reaches the top and rescues Ann off her precarious ledge. They embrace, and then watch the scene far below:
On impact, Kong's body didn't make quite as big a mess as I thought it would. And as the police try to keep everyone back, we spy Denham behind the barricade. And when one of the cops waves him through, we reach our final denouement.
"'Well!' said the policeman. 'That was a sight. I never thought the aviators'd get him.'

'The aviators didn't get him,' Denham replied slowly.

'What?'

'It was Beauty. As always. Beauty killed the Beast.'

The sergeant's puzzled frown grew deeper."
(Whatever. I really think it was the fall that did it.)
The End
After King Kong wowed its initial audience, controversy brewed as national publications and newspapers argued and conjectured as to how the film was made. Some claimed the studio used giant robots, while others said it was all done with real apes and trick photography. Even an actor named Ken Roady claimed to be Kong, saying he got paid $150 a week to wear a monkey suit while they animated Wray into his hand. I haven't timed this myself but it's been documented there's only about 16 to 17 minutes of King Kong's running time which actually showcases O'Brien's stop-motion creatures. Still, the meticulous process of animating the models was painstakingly slow and the film took almost a year to complete. I don't know what it is about these stop-motion pictures that put the hypno-whammy on me, giving me the irresistible urge to break out the Play-Dough and make some dinosaurs. O'Brien and his group of technicians were amazing. Honestly, I don't know if he invented the stop-motion technique, and I wouldn't even say he perfected it (-- that nod I'd give to Ray Harryhausen), but he definitely refined it and showed what it was truly capable of. And it was so revolutionary miniature special-effects remained basically the same until CGI came along. And along with the miniature work, Kong also required a life-size mock-up of his head for extreme close-ups, an arm and hand that had to grab and hold the captive heroine, and a foot to squash some natives. O'Brien and Delgado oversaw the production of these giant props, as well. The hand and foot hold up okay. The giant head? Well...
I guess the best compliment I can give the F/X team on the original film is this: at no point during the '76 remake did I not look at Kong onscreen and forget it was just some guy in a monkey suit. (And please do not consider this a knock on Rick Baker's work as he did more than an admirable job of saving the Big D's bacon.) In the original, you easily get past that, and it really gives the animated characters life and enhances the action instead of hindering it. It takes several viewings, but you start to pick up some of the minor details they stick in; like spotting the Plesiosaur's head bobbing in and out of the lake when Kong first enters his cave; or the blood that continues to ooze out of the dead Allosaurus' mouth. And if you're really paying attention, you'll notice the mortally wounded animal is still breathing! The miniatures were filled with air bladders to pull that off, and I don't want to fathom how much patience it took to slowly inflate those to keep in time with the other animation. Also notice when Denham shoots the Stegosaur -- he nails it right in the eye.
Cooper, meanwhile, managed to kick his drinking habit during the lengthy production, swearing he wouldn't have another drink until the film was completed and stuck to it for fear of jinxing his project. But despite all the cuts and recycling, the production's budget blossomed to an eye-popping $650000. (Again, remember, this is 1932 and the Depression was on.) The films biggest set piece was the giant wall and gate on Skull Island. This impressive structure was cannibalized from an old Cecil B. Demille biblical epic -- destined to be recycled yet again and burned down in another Selznick production, Gone With the Wind. (That's what's burning behind Rhett and Scarlett as they escape Atlanta.) To save more money, the film would also share a jungle set with another Cooper production, The Most Dangerous Game, and would also borrow its leading lady, Fay Wray. The producer had promised Wray she would be playing with the tallest, darkest leading man in movie history. What she got were a couple of RKO stock players in Robert Armstrong and Bruce Cabot. The character of the ship's cook was changed from the script. Originally calling for a salty old sea dog. this was changed to an oriental, I assume, for some bad (-- and slightly distasteful --) comedy relief. As mentioned before, Cooper and Rose also changed the script to match some of the miniature set-pieces already built for Creation, including the chasm spanned by the log that's a centerpiece in the finished film.
And that finished film, love it though I do, is not without its flaws. Selznick himself said you could lop off the first fifteen minutes and it wouldn't matter. And he's probably right; it does take a while to get up to speed, but still, my biggest beef with the film is, after all that action on Skull Island, all the New York stuff kinda comes off a bit anti-climactic to me. But King Kong's biggest flaw is that Kong is the only character with ... well, character. All Ann Darrow is allowed to do is wait around for Driscoll for the first part of the film, and then scream away for the last part. And Driscoll couldn't really be any more one-dimensional, so there isn't a whole lot for Cabot to do except look grim and grunt his lines. This was one of the actor's first screen roles, and though Cabot went on to a long and fruitful career as a second banana to the likes of John Wayne, he never really took as a leading man. And if the rumors are true, that Joel McCrea was also up for the role, it really makes you long for what could have been. Then there's Robert Armstrong, whose idea of emoting is to keep saying each successive line LOUDER andfwholelotfaster than the last. Luckily, Denham is such a great character it helps to overcompensate for Armstrong's gung-ho performance. But to everyone's defense, there aren't a lot of opportunities for emoting in this film, except for Kong's death scene atop the Empire State Building, which O'Brien milks for all it's worth. And I think that's why we wind up rooting for Kong. Not necessarily to get the girl (-- that's just weird), but we don't want to see him shot off the building and are sad when we see him splayed all over the pavement.
Boo! I say. Boo!
Regardless, the public clamored for more so Cooper, O'Brien, Schoedsack and Rose would all collaborate again almost immediately on the rushed sequel, Son of Kong. Sure, it pales when compared to his daddy's picture, but I still find the film enjoyable. Cooper went on to produce more exotic adventures yarns for RKO, most notably the lost civilization epic, SHE. Eventually, he left RKO with Selznick, and after serving another stint in the Air Corps during World War II, he formed Argosy Productions with John Ford, and, together, made several John Wayne classics, including Fort Apache, She Wore a Yellow Ribbon, The Quiet Man and The Searchers. Success after King Kong was harder to come by for O'Brien, though. He had ideas for other fantastic films, including Gwangi -- the tale of a band of ranch-hands who find a Tyrannosaurus-Rex roaming the Grand Canyon. After a wild rodeo roping sequence, they capture and display the beast in a wild west show. And the climax was to feature the dinosaur battling a bunch of escaped lions and terrorizing the local town until it's pushed over a cliff by a truck. Originally, RKO had planned to film it around 1942 but it never got made for budgetary reasons. Cannibalizing some of those unused elements, Cooper and O'Brien teamed up again in 1949 for another- not quite as big ape on the loose film with Mighty Joe Young. Schoedsack was set to direct it and Rose provided another script, incorporating some of O'Brien's ideas, including the lion attack. When production began, O'Brien also had a new apprentice on board to help with the animation named Ray Harryhausen, and the picture eventually won O'Brien an Academy Award for special-effects.
After Mighty Joe Young's success, O'Brien tried to get Gwangi filmed again. Collaborating with Richard Landau on a script called The Valley of the Mists, it too was deemed too expensive to shoot and was scrapped. Later, Harryhausen would find this script that eventually became The Valley of Gwangi. Sadly, the closest O'Brien ever got to making Gwangi himself was The Beast of Hollow Mountain, where a rash of cattle-rustling turns out to be another Tyrannosaurus with a forked-tongue feeding on the local herds. (Unfortunately, the monster doesn't appear until the very end after an excruciatingly long and plodding build up.) After the success of Kong's re-release in the 1950's, and subsequently inspired films like The Beast from 20000 Fathoms and THEM!, monsters were once more in demand -- and so was O'Brien. Serving as a technical-supervisor on The Black Scorpion, despite the embarrassing sequence where the producers saved money by not compositing the creature into one extended sequence, the final battle in the stadium between the armored arachnid and a battalion of tanks is quite spectacular (-- though watered down some by constant repetition), and I think it's the best work the animator ever accomplished. Moving into the 1960's, O'Brien also had an idea where Kong would battle the Frankenstein monster, had several production sketches, and even had a tentative agreement from a certain Japanese picture company to film it. But once again, the deal fell through. Needless to say, O'Brien was a little miffed when a similar monster from his sketches starting battling Godzilla, and showing up in films like Frankenstein Conquers the World and War of the Gargantuas. Then, O'Brien's career basically came full circle in 1959 with The Giant Behemoth, the story of a radioactive dinosaur surfacing in London and runs amok. I think the film is really an underrated and overlooked gem of the genre, and I'll argue with anybody that it's a better film than Harryhausen's The Beast form 20000 Fathoms. (Script-wise folks, calm down.)
Over the subsequent years since its original release, King Kong has been dissected and analyzed to death. Is Kong Denham's Id come to life? Does Kong represent the African American and his struggles in America? Is it a study of greed and the raping of natural resources for profit that will always end in ruin? And do we really need to get into all that stuff about the phallic symbolism of the Empire State Building. Yikes. Moving on ... From the beginning Cooper always maintained there was no such subtext to King Kong, and it should be taken as nothing more than a straight action movie. I've often wondered, if Cooper had his druthers, if Ann's character would've even be there in the first place? Like Denham's character says at the beginning, she's there because the movie public has to have a pretty face to look at.
What do I think? Well, it may be naive but I simply take the film at face value. No hidden meanings or messages, aside from it's central moral. Nope, just a straight up adventure story with plenty of spectacle and fantastic elements that pulls you in and doesn't let go until the tragic conclusion.
As for the men responsible, Cooper's last project was This Is Cinerama (-- and sure enough, it was a co-production with his now ailing and nearly blind friend Schoedsack), and he eventually passed away in 1972. O'Brien's last project was animating the miniature people at the climax of Stanley Kramer's madcap comedy, It's a Mad Mad Mad Mad World. He passed away shortly after in 1962. Both men made pictures before and after Kong, and some of them were probably better films, but none have had a bigger impact or been imbedded into the public consciousness the way their first collaboration did. Often imitated but seldom bettered, King Kong deserves its place as a pop-culture icon and is a damned fine piece of cinema. Cooper shared co-producing and co-directing credits with his friend Schoedsack on the film. He also shared script credits with Wallace, Creelman and Rose, but, make no mistake, Kong was really his baby -- but it was O'Brien and his technicians who really brought his baby to life for all the world to enjoy. So, on behalf of the entire world, I would like to say, Thank you, gentlemen.